One significant advantage of chartering a private jet that's often overlooked is the outstanding catering available, which is a far cry from the mass-produced options normally offered on scheduled services.
Whether you require a three-course banquet for an inflight business dinner or a fresh platter and champagne for a special occasion, we can arrange a wide range of bespoke catering solutions to further elevate your onboard experience.
Once your charter is confirmed, we will take note of any catering preferences you may have before teaming up with trusted partners to bring your vision to life. Options may vary slightly depending on your chosen aircraft's facilities and the timing and duration of your flight, but we'll always go above and beyond to fulfil any special requests. So, what are you waiting for? Just say the word and we'll create your very own restaurant 30,000 feet up in the sky!
Interview with Annabel Brown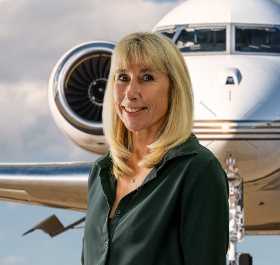 Annabel Brown, Cabin Services Director at Voluxis, shares her insights on how we make your inflight dining experience extra special.
Annabel has almost 30 years of expertise in cabin duties and brings with her a wealth of knowledge in regard to the private aviation market.
How does Voluxis source its in-flight catering?
Voluxis has a close working relationship with various catering companies that pride themselves on providing excellent service and using locally sourced and seasonal ingredients. If required, our experienced flight attendants can also provide catering services and are extensively trained on how to present and prepare inflight meals.
What is the most important part of menus on private flights?

Menus must be varied and offer alternatives for tastes and dietary requirements. At Voluxis, we provide customers with numerous seasonal options and special holiday menus to cater to every palate.
A special coronation menu is being offered to celebrate King Charles III's coronation in May 2023, which includes a variety of famous British staples on a platter fit for a king.
What if clients have special requests?
We do our utmost to cater to any special request. On occasion, factors that are out of our control, like time constraints or airport location, can hamper our ability to accommodate some demands. However, we will always work with the customer to achieve the best possible solution. You'd be amazed how much we can offer even at very short notice!
What was the most unusual request that you received?
Most requests we receive are usually quite simple, like jam sandwiches or standard soft drinks. We do sometimes get requests for upmarket and harder-to-source food like Japanese Wagyu beef. We have also been asked to serve food from a fast-food chain a few times.
About VOLUXIS
VOLUXIS is a global AOC holder that has been in operation for over 40 years. We have a diverse fleet of Embraer, Dassault, Bombardier and Hawker aircraft available for private charter. We also provide aircraft management and aircraft sales and marketing services from our offices at London Biggin Hill and Farnborough airports.